🎀 Feliz Cumpleaños Frida Kahlo 💣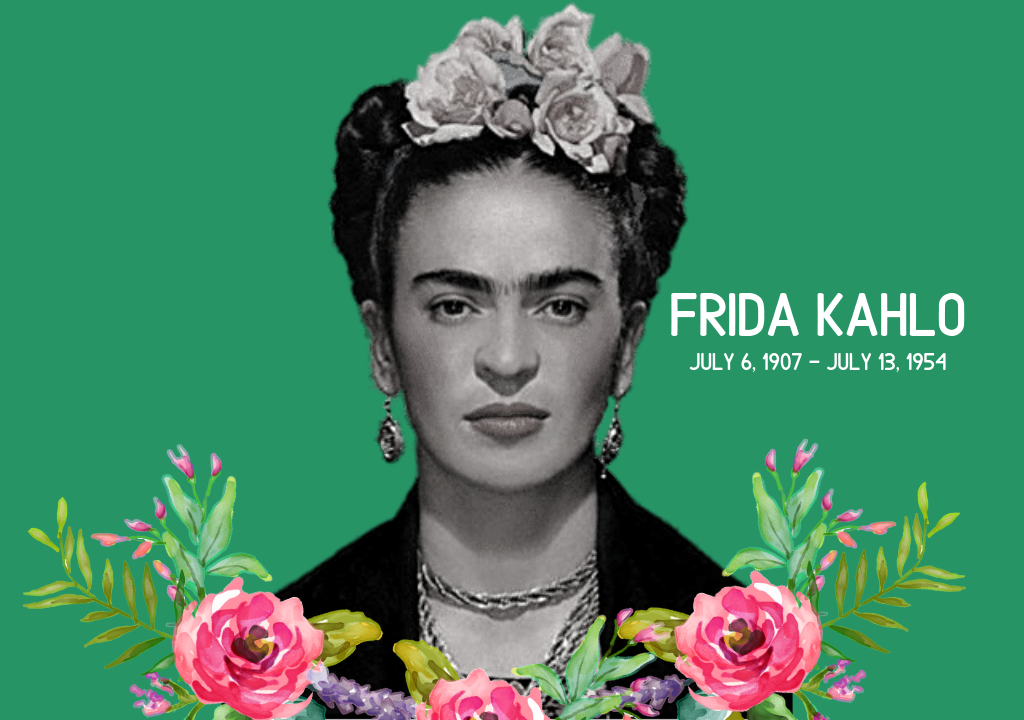 A Birthday Tribute to our OG Reina Rebelde:  Frida Kahlo
So many things to say about Frida Kahlo and the many ways she has inspired people all over the world and Reina Rebelde as a brand. (I have always been fascinated by Frida's life story, so it was no surprise that she influenced Reina Rebelde in a multitude of ways.)  We always say that she was a real OG Reina Rebelde - an original and singular force.  Her formula for creating this legacy seemed to boil down to one main thing:  she unapologetically spoke her truth and embraced her dualities. Always. 
Frida Kahlo had a hard life. (It seems great art rarely comes from the good life.)  Born in Mexico, she contracted polio as a young girl and was left with a crippled leg. Years later, she was in a horrific bus accident that destroyed her spine and pelvis rendering her immobile and suffering from chronic pain.  What does one do with so much physical pain?  Apparently, you make art. 
Her tremendous artistic skill, imagination and membership with the Mexican communist party caught the eye of Diego Rivera. But her marriage to Diego was tumultuous:  ripe with infidelities, devastated by her miscarriages and infertility, and full of setbacks due to the 30-plus surgeries she endured throughout her life. She painted about ALL. OF.  IT. - her pained body, her broken heart, her grief, her rejections and her sadness. Her work consisted of mostly self-portraits (because she was bed ridden so often), and she described her work and its symbols as "containing messages of pain."
Toward the end of her life, she was becoming famous and managed to have her first solo exhibition (in Mexico which was revolutionary for a female artist). Her health had deteriorated significantly by the opening, but she was undeterred.  She was carried in on a stretcher and laid in a bed in the middle of the opening of her exhibition.
Her legacy is profound and her influence continues to grow. She was the first Mexican artist to have a work enter a major international collection in Paris. The first Latin American artist to be sold at auction for over a $1 million.  She was bisexual. Tortured. Full of passion and light. A veces, she wore men's clothing and a veces she wore beautiful Mexican dresses and elaborate braids. She always wore her signature unibrow and bold lip. 
A contemporary of hers described her as "a ribbon around a bomb."  We can't think of a more fitting description of our OG Reina Rebelde.
"Pies para que los quiero si tengo alas para volar." -Frida Kahlo
P.S.
Besides our own personal obsession with Frida, we can attest to the Frida-mania that has taken over the planet.  In 2017, Reina Rebelde was invited to the Dallas Museum of Art during their Frida Kahlo exhibit to paint unibrows using our Rebel Eye Paint for Brows + Eyes (in the shade Frida of course) on people wishing to participate in setting the world record for the most Frida Kahlo look-alikes in one place. A unibrow was one of the requirements to be counted. We set up anticipating a few Frida 
cejonas
 might be needed, and before doors opened, there was a line of Frida-dressed fans lined up around the city block waiting to get the final touch on their Frida-inspired outfit. It was all-hands-on-deck madness for 3 hours – we painted unibrows on babies, men, children, women, and pets.  (And yes, we set the world record, you can read about it
here
.)