How to get the perfect winged eyeliner every time with Bonita Bandera liquid eyeliner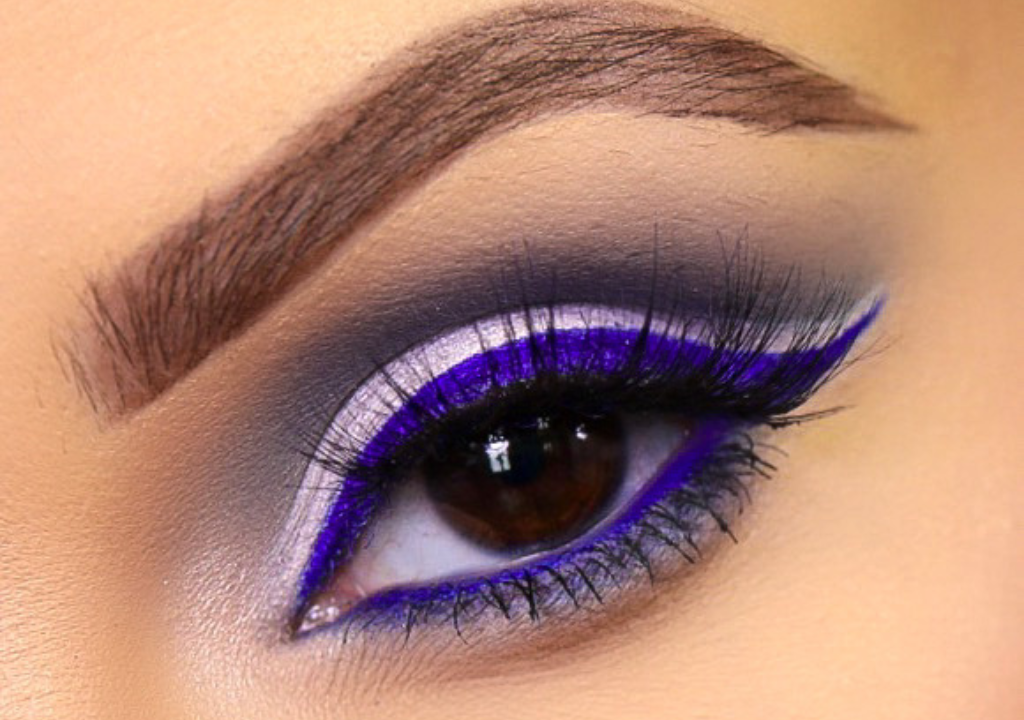 Our Bonita Bandera liquid eyeliner is an award-winning, long-wearing and pigmented blue shade for an epic winged eyeliner effect, designed to add a fun but wearable pop of color to any eye makeup look. 
Winged eyeliner has been a popular eye makeup look for a long time, because it makes all eye shapes and colors extra sultry and defined, especially when there is an unexpected eyeliner shade at play. It is our go-to choice for a night out, but it can also be worn during the day with a paired down lip.   
To get a perfect winged eyeliner with Rebel Eye Definer Liquid in Bonita Bandera -our blue liquid eyeliner- follow these steps and connect the dots:
1. Apply a very thin layer of eye primer on your lids and blend it well.
2. Apply a sheer layer of a neutral eyeshadow all over the lid such as the gold shade in the 4 Play Wet Dry Eye Color in Azteca. However, we love to pair a silver eyeshadow from our 4 Play Wet Dry Eyeshadow in Tapatía with our Bonita Bandera liquid eyeliner for an unexpected combination. 
3. Use regular tape to help you draw crisp lines and to make the winged eyeliner process easier. Make sure the tape is placed from your brow tail to the outer corner of your eye. Ensure that both eyes are taped at the same angle. Peel off the tape and correct the angles until you have a close to matching set of angles for your winged eyeliner outline.  They don't have to be exact - no pasa nada!
4. Once the tape is positioned where you want it on both eyes; use the tip of your liquid eyeliner to draw along the tape to a midway point between the outer edge of your eye and your brow tail.  How far up the tape you go, will determine how dramatic or tame your winged eyeliner will be. 
5. Draw a dot about one-third of the way in from your outer eye and repeat on the other side. Ensure that the dots are in the same place and if not, remove them with makeup remover before proceeding.
6. Connect the end of your winged eyeliner tail to the dot on your eyelid to form a triangle on your outer eyelid. After drawing out the triangle, carefully fill it in with eyeliner. The wings will now be close to matching on both sides of your winged eyeliner eye makeup look. The challenging part is done!  
7. Apply your liquid eyeliner in a thin line along the lash line of the rest of the eye, making sure to connect it to your winged eyeliner tail. Let the liquid eyeliner set for a minute, remove the tape carefully, fix any mistakes with a Q-tip and a small touch of makeup remover, add your mascara or lashes. 
Shop here for our award-winning liquid eyeliner:  Bonita Bandera